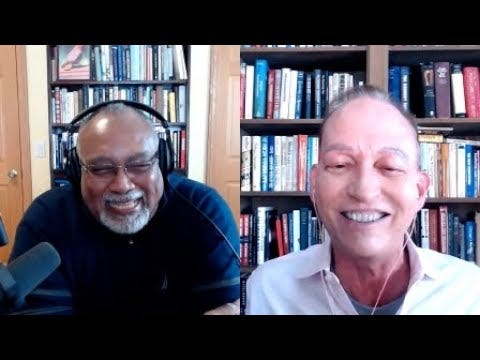 Feb 28, 2022 • 1HR 25M
Matt Rosenberg – What Next, Chicago?
Weekly conversations on race, inequality, and more, with Glenn Loury. Bi-weekly appearances by John McWhorter.
This week, I welcome Matt Rosenberg to TGS. Matt is a journalist who grew up in Chicago's Hyde Park neighborhood and the author of the recently published book What Next, Chicago?: Notes of a Pissed-Off Native Son. The book delves into the causes and effects of the city's recent, alarming rise in crime and also chronicles those who are trying to address the problem. As a native of Chicago's South Side, I share Matt's concerns, and I highly, highly recommend that everyone read his book.
We begin by talking about Matt's personal connection to the city, and his memories of the Yippie protests at the 1968 Democratic National Convention. Matt explains what drove him to return to Chicago after leaving the city years ago. He then gets into the deep relationship between street crime and political corruption in the city. He notes that he's not the only person covering these stories, but there are few journalists making systematic efforts to connect the dots between them. It's not all bad news from Chicago, though. Matt discusses a few organizations that are making change at the grassroots level, including Corey Brooks's outstanding Project H.O.O.D. We move on to one the city's most pressing problems: schools. Matt underscores the necessity of school choice and charter school funding in a city where many public schools are underserving students and parents. One under-discussed but important story Matt covers is Chicago's sizable and thriving Latino communities. He finds them full of hard-working, family-oriented folks who are making the most out the opportunities afforded them. We then move on to talk about the problem of crime and enforcement. Is a highly punitive crackdown on the crime the best way to combat rising crime? Matt doesn't think it's that simple. We know that incarceration is linked to the break-up of traditional family structures, but is it really the primary cause? Matt introduces us to Darryl Smith, a remarkable man who did time in prison but came out and turned his life around while helping out his neighbors in Englewood and staging nonviolent protests that resulted in construction unions opening their ranks to local black laborers. We end the discussion by taking a broad view of the South Side's decline and talking about what can be done to reverse the damage.
This is a subject near and dear to my heart, and one that has broader significance to other troubled communities across the country.
---
This post is free and available to the public. To receive early access to TGS episodes, an ad-free podcast feed, Q&As, and other exclusive content and benefits, click below.
---
0:00 Matt's new book, What Next, Chicago?: Notes of a Pissed-Off Native Son

8:48 Piecing together the puzzle of race, crime, and corruption

18:53 Some Chicago success stories

23:19 Matt: Charter schools are a necessity in Chicago

34:16 Chicago's thriving Latino communities

40:35 Is increased enforcement the best way to solve Chicago's crime problem?

54:08 What is disrupting traditional family structures in Chicago's black communities?

59:02 Darryl Smith, the (unofficial) Mayor of Englewood

1:03:43 The decline of the South Side and the efforts to revive it

1:14:42 So, what's next for Chicago?
---
Links and Readings
Matt's book, What's Next, Chicago?: Notes of a Pissed-Off Native Son
Corey Brooks's Project H.O.O.D.
University of Chicago's Crime Lab
Northwestern University sociologist Andrew Papachristos
Jane Jacobs's classic book, The Death and Life of Great American Cities